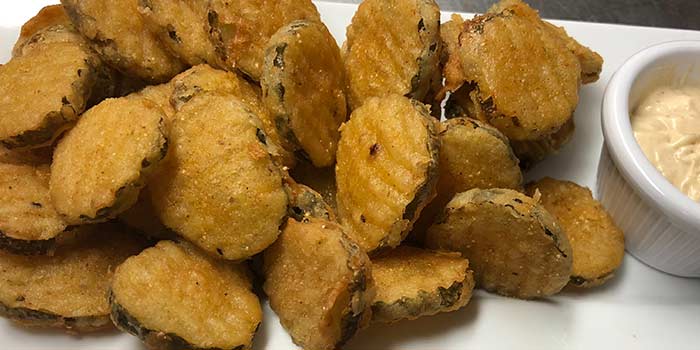 Wings Your Way
Traditional or Boneless. Choose plain, Jamaican Jerk, Mango Habañero, BBQ, Teriyaki, Honey Garlic, Sweet Chili, Garlic Parmesan, Korean BBQ or Buffalo style 14.00
Cheese Curds
From Ellsworth, WI these curds are hand breaded and fried 'til golden 9.50
Fried Pickle Chips
Pickle slices hand breaded in our homemade signature coating 9.00
Shrimp Cocktail
Made-to-order 6 large shrimp served with cocktail sauce 13.00
SHROOMS + TIPS
Tenderloin tips sautéed in au jus with mushrooms. Topped with Bleu cheese crumbles and chopped chives. Served with toast rounds and chervil butter 14.00
APPETIZER OF THE MONTH
Ask your server 8.00
Sampler Platter
A combination of Buffalo wings, loaded potato skins, onion petals and cheese curds 16.00
Deep Fried Green Beans
Served with house made zesty ranch 8.00
Nachos
A generous portion of house made chips with taco meat, cheese, lettuce, dice tomatoes and black olives. Served with sour cream and salsa 13.00
Add guacamole 2.00
Spinach Artichoke Dip
A toasted crock served with fresh, made-to-order pita chips 9.00
Bacon Wrapped Jalapenos
Fresh jalapenos, halved and stuffed with our crumbled sausage and cream cheese mixture, wrapped in Applewood smoked bacon and char-grilled. Served with a blackberry dipping sauce 14.00
BRUSCHETTA
A delightful blend of tomatoes, onion and garlic drizzled with house made sun dried tomato vinaigrette and served with toast rounds 8.00
BUFFALO CHICKEN DIP
A toasty crock served with fresh, made-to-order pita chips. 9.00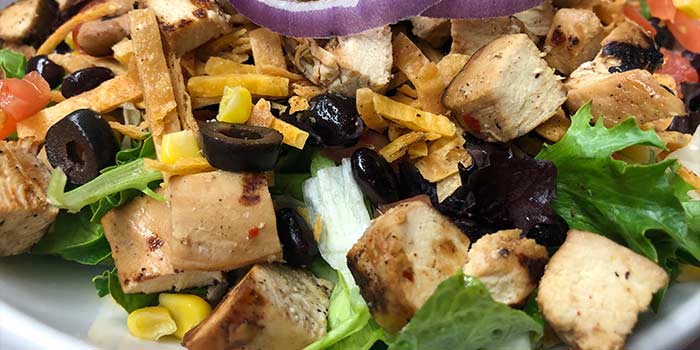 Chef Salad
A classic salad topped with ham, turkey, eggs, tomatoes, clack olives, red onions, Swiss and Cheddar cheeses 13.00
Cobb Salad
Chopped mixed greens topped with cucumbers, bacon, diced chicken, crumbled Bleu cheese, tomatoes, black olives, red onions, and eggs 13.00
Southwest Salad
Crisp lettuce, grilled fajita chicken breast, black beans, corn, tomatoes, black olives and onions. Crowned with homemade tortilla strips and Mexi-ranch dressing 13.00
Salmon Salad
A honey Dijon glazed fillet perched atop mixed greens with diced tomatoes, red onions and Parmesan cheese. Topped with dill seasoned tortilla crisps. Served with a house made sun dried tomato vinaigrette. 13.00
Spinach Salad
Topped with diced, hard boiled egg, bacon bits and red onion. Served with warm bacon dressing. 13.00
Topped with grilled chicken 15.00
Blackened chicken 15.75
Chili
Our slow cooked, made from scratch chili topped with cheese and onions
Cup 4 | Bowl 6
Soup of the Day
Ask your server for today's featured soup. Cup 4 | Bowl 6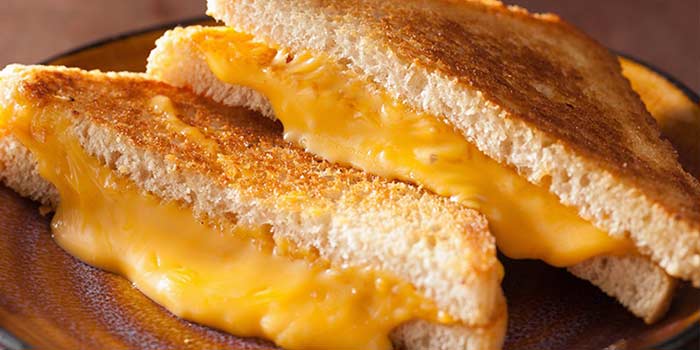 Served with a beverage and fries or fruit cup
Hamburger 6.50
Cheeseburger 7.00
Chicken Tenders 7.00
Mini Corn Dogs 6.50
Kraft Mac-n-Cheese 6.50
Grilled Cheese 5.75
4oz Steak 8.00
2 Piece Fish 8.00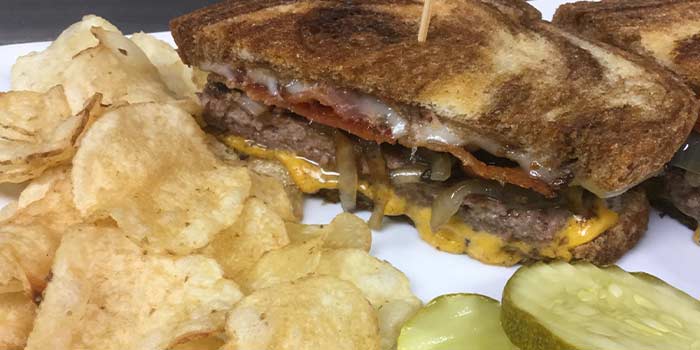 Served with kettle chips, fries or upgrade your side!
Philly Cheesesteak
Thinly shaved steak topped with peppers, onions and Provolone cheese 14.50
Caribbean War Pig
Jamaican jerk pulled pork, Applewood smoked bacon, Pepper Jack cheese and a tangy mango habanero slaw piled atop a toasted roll 14.50
G'PA Charleston's Pulled Pork
Sourdough grilled with garlic butter and piled with pulled pork, bacon, Cheddar cheese, BBQ sauce and mustard 14.50
Reuben
Corned beef Swiss cheese, Thousand Island and sauerkraut on grilled marble rye 14.50
Prime Melt
Our slow roasted prime rib is shaved and piled high on grilled sourdough bread, with natural Swiss cheese, sauteed onions and served with a side au jus 15.50
BUFFALO CHICKEN SANDWICH
A crispy fried breast coated in buffalo sauce and topped with Pepper Jack cheese and served on a toasted bun. 14.50
Upgrade your sandwich! Add onions rings, cheese curds or loaded potato skins for 2.00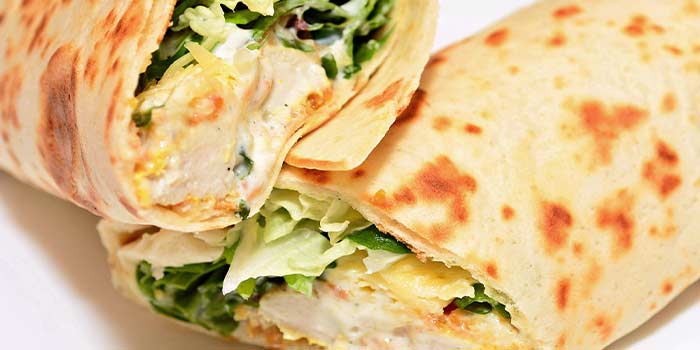 Served with kettle chips, fries or upgrade your side
Chicken Bacon Ranch Wrap
Grilled chicken breast, black olives, bacon, tomatoes, lettuce and Ranch dressing rolled into a vegetable tortilla. Try it with our zesty Ranch dressing! 13.00
Southwest Wrap
Corn, black beans, black olives, diced tomatoes, fajita chicken breast, shredded lettuce, crunchy tortilla strips and our homemade Mexi-ranch dressing all rolled in a vegetable tortilla 13.00
Buffalo Chicken Wrap
Southern style chicken tenders, shredded lettuce and tomatoes mixed with a creamy buffalo sauce and rolled in a vegetable tortilla 13.00
Hogs-N-Slaw
Our slow-roast pulled pork is mixed with tangy BBQ. Then we adda healthy portion of slaw and wrap it up in a vegetable tortilla.
Club Wrap
Honey ham, turkey, bacon, diced tomatoes, shredded lettuce and mayo get rolled into a soft vegetable tortilla. 1.00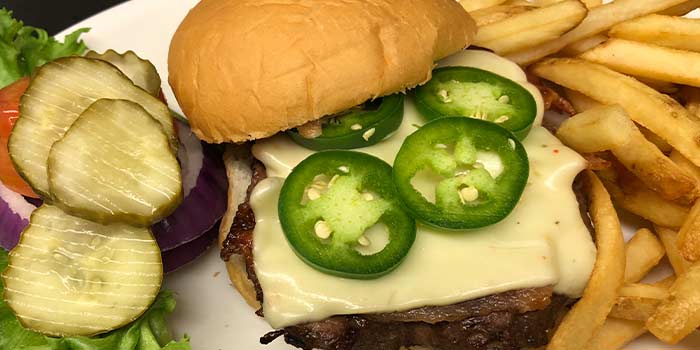 Steak Burgers 1/3 pound | Grilled or Crispy Chicken | Black Bean Burger
Served with fries. Lettuce, tomato, and onions served upon request. Fresh never frozen. Make it a 1/2 pound for only 2.00 extra.
Signature Burgers
The Whiskey Cream
Char-grilled and topped with Applewood smoked bacon, sauteed mushrooms and grilled onions, plus our house made whiskey cream sauce and Pepper Jack cheese. All this goodness on a toasted Brioche bun 14.50
Bacon Crack Jam
Topped with fried onions, melted Provolone cheese, Applewood smoked bacon and Jen's homemade bacon crack jam 14.50
PUB BURGER
Topped with our Bugler Brown Ale onions and Applewood bacon. Served on a pretzel bun with crushed kettle chips and house made garlic aioli. 14.50
Frisco
Swiss cheese, Applewood smoked bacon, grilled onions, tomatoes, and horseradish sauce. Served on grilled sourdough 14.50
WTH (What The Heck)
Our house made fried pickle chips and WTH sauce found a home on top of this bacon Cheddar burger 14.50
Lone Star
This burger is topped with bacon, Pepper Jack cheese and Texas tooth picks (fried onion and jalapeno straws). Then we add a swirl of zesty ranch and serve it on a Jalapeno Cheddar Bun 14.50
Beer Cheese
Using Sand Creek Bugler Brown Ale, we concoct drunken onions and a Jack cheese sauce to top this Applewood bacon burger. Served on a pretzel bun 14.50
POPPER BURGER
We place our seasoned cream cheese and sausage mixture on top of Applewood smoked bacon, then melt Pepper Jack cheese. Just wait 'til you dunk it in our house made Blackberry sauce! 14.50
RE-PETE OFFENDER
Our version of the "Juicy Lucy" with a kick. Two 1/3 lb seasoned and stuffed burgers. Topped with jalapeño bottle caps, Pepper Jack and hot sauce.
Served with Ancho sauce on our Kaiser roll. Dare to eat five and earn a free T-shirt. Qualified eaters must eat everything on the plate. Ask your server for details! 16.00
Classis Burgers
Classic 11.00
Add American, Cheddar, Swiss, or Pepper Jack cheese 1.00
Add bacon for 2.00
Olive & Swiss 13.00
Patty Melt 13.50
Mushroom & Swiss 13.00
BBQ, Bacon & Cheddar 14.00
Black & Bleu 13.00
Upgrade your burger! Add onions rings, cheese curds or loaded potato skins for 2.00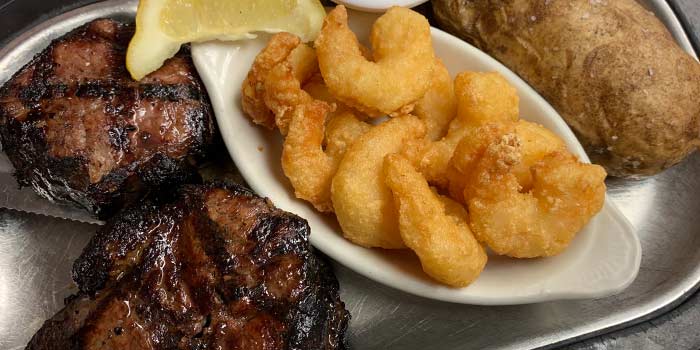 Served with choice of soup or salad and choice of potato
Bourbon Chicken
Two tender, char-grilled breasts topped with our flavorful bourbon glaze and melted Provolone cheese 13.00
Add additional chicken breast for 4.00
Bacon Wrapped Pork Loin
Two hand selected pork medallions wrapped in bacon, basted with bourbon glaze and char-grilled to perfection 14.00
Chicken Finger Platter
Southern style chicken tenders. Served with your choice of dipping sauce: BBQ, Buffalo, Ranch or Honey Mustard 13.00
Chicken Cordon Bleu
A crispy, breaded chicken breast topped with grilled ham and Swiss cheese. Finished with a silky hollandaise 13.00
Add additional chicken breast for 4.00
Broasted Chicken
Half Chicken 16.00 | Quarter Chicken 13.00
Substitute all white meat (Half chicken only) 2.00
Baby Back Pork Ribs
Full Rack 24.00 | Half Rack 17.00
Ribs & Chicken Combo
We take both of our house specialties, our famous BBQ Pork Ribs and Broasted Chicken and create the perfect meal 23.00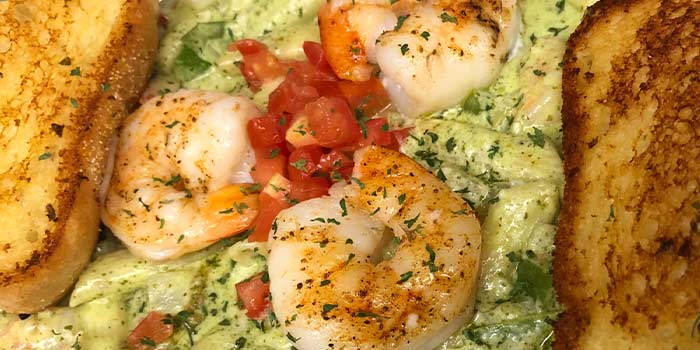 Served with soup or salad and breadsticks or garlic toast
Three Cheese Tortellini
Three Cheese Tortellini in a cream or tomato cream sauce 15.00 Add Grilled Chicken or Shrimp 17.50
Cajun Alfredo
Penne noodles, green and red peppers, onions, Andouille sausage and chicken tossed with a lightly seasoned Alfredo sauce 18.00
Mac-N-Jack
Penne noodles, diced bacon and Andouille sausage tossed in a flavorful Monterey Jack Cream Sauce. Finished with a crunchy Panko topping 18.00
Lobster Mac
A delicate blend of Monterey Jack Cheese and cream smother penne noodles, broccoli florets and lobster meat. Topped with Panko bread crumbs 18.00
Cavatappi and Balls
Spiral ridged noodles covered in our flavorful marinara sauce, topped with mini Italian meatballs. 16.00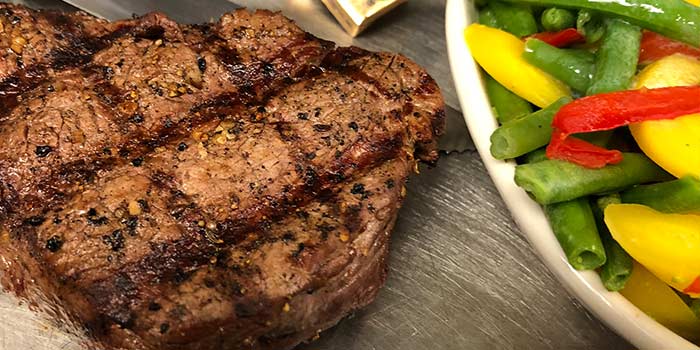 Served with choice of soup or salad and choice of potato
Ribeye
USDA choice hand-cut steak
12oz 26.00 | 16oz 30.00 | 22oz 36.00
Sirloin
USDA Choice 8oz hand-selected Top Sirloin char-grilled to your liking 18.00
Additions
Bleu cheese, or Parmesan crusting, blackening, herbed butter, sauteed mushrooms and/or onions or 3 large shrimp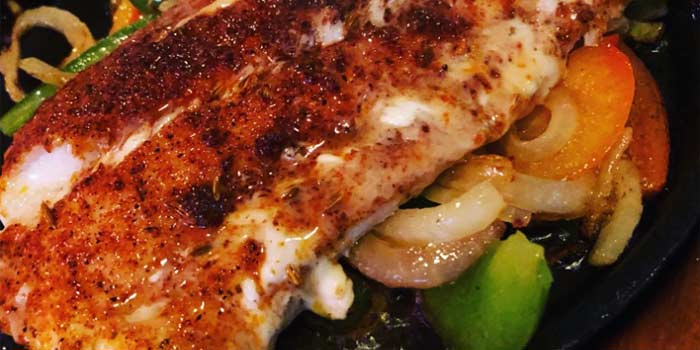 Served with choice of soup or salad and choice of potato
Trout Fillets
A skin-on Red Rainbow Trout Fillet. Broiled to perfection 16.00
Add another fillet 5.00
Large Shrimp Platter
Choice of broiled or batter fried shrimp
5 pcs. 16.00 | 8 pcs. 21.00
Salmon
An 8oz Atlantic fillet. Your choice of lemon pepper seasoned or honey Dijon glazed 18.00
Fish Fry
It's not just for Fridays anymore. Atlantic Cod loins. Choose between beer battered or broiled
2 pcs. 13.50 | 3 pcs. 15.50
Deep Fried Lake Perch Fillets
5 fillets delicately breaded and deep fried 18.00
FROG LEGS
6 legs beer batter fried. 17.00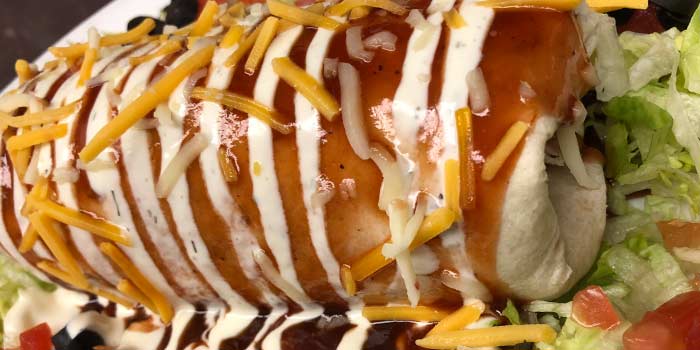 May we suggest adding guacamole? 2.00
Taco Salad
Crispy tortilla shell filled with ground taco meat, cheese, lettuce, black olives and tomatoes. Served with salsa and sour cream 14.00
Chimichanga
Hand rolled and made-to-order, stuffed with sour cream, refried beans, freshly cut pepper blend and Pepper Jack cheese, with your choice of shredded beef or fajita chicken. Smothered with house made enchilada sauce and sour cream. Includes a side of rice, lettuce, tomatoes and black olives 15.00
Chicken Quesadilla
Grilled chicken breast, cheese and tomatoes folded into a grilled flour tortilla. Topped with sour cream and served with lettuce, tomatoes, black olives and salsa 12.00
Go Ultimate: Add Fajita chicken breast and flame roasted onions and peppers 14.00
Fajitas
Your choice of grilled chicken or steak on a sizzling platter with red and green peppers and onions. Served with sour cream, salsa, Mexican cheese blend, lettuce, tomatoes and black olives
Chicken 16.00 | Steak 17.00
Steak & Chicken Combo 18.00
Prices and items are subject to change without notice
3% surcharge is added to all credit card purchases